Current members
Prof. Georges HADZIIOANNOU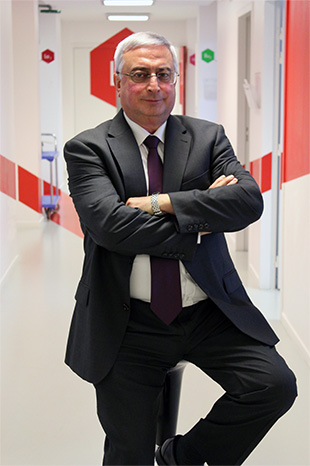 Georges Hadziioannou is Chemistry Professor at the University of Bordeaux since 2/2009, Holder of the Industrial Chair of ARKEMA/ANR HOMERIC "Hierarchical assembled Organic Materials for ElectRonICs", Member of the ARKEMA Corporate Scientific Board and Senior Member of the IUF, Chair of "Physical chemistry of Polymers".
His career is characterized by a strong commitment to fundamental research at different universities and research institutes worldwide and an important industrial tenure at IBM Almaden Research Laboratory (San Jose, California). He has pioneered work on nanostructured polymers materials with innovations in flexible and printable organic electronic materials as well as energy and information technologies. His research effort led to more than 460 publications (H = 65) in internationally peer-reviewed journals. He has been an invited and keynote speaker at many conferences (177 since 1994).
Throughout his career, he has been deeply involved in teaching at the undergraduate and graduate levels and has guided a substantial number of young scientists. He supervised 56 PhD's and hosted in his laboratory more than 70 post-docs and invited professors. He has 45 patents as a result of his research. He was co-founder of 3 start-ups ("Polymer Service Center" now "PolyVation", "Papyron", "Polpyphos®").
In addition to education and research, Prof. Hadziioannou had numerous and important management positions and he participated in various administrative committees along his entire career. He has been and is a member of many scientific advisory boards of many institutions and member of the editorial boards: ChemPhysChem from its creation until 2004, Advanced Materials, Macromolecules and ACS Macro Letters.
His research area covers semi-conducting polymers, nanostructured polymer materials, polymer materials for the storage and transfer of information, organic electronics and systems thereof.
For more details, see the CV
and the list of publications.
Academics
DR. CYRIL BROCHON

Status: Associate Professor
Employer: University of Bordeaux
Topics: Design of Functional Polymers; Synthesis of block copolymers; Synthesis of π-conjugated polymers; Electrophoretic inks

Education and Experience

Cyril Brochon received his PhD in Polymer chemistry at the University of Bordeaux in 1999, where he studied synthesis and anionic polymerization of novel silicon-based heterocyles. Then he learnt controlled radial polymerization at the Charles Sadron Institute (ICS, Strasbourg). In 2001 he joined the team of Pr G. Hadziioannou in ECPM (Strasbourg) as assistant professor, where he studied the design of functional polymers, including semi-conducting polymers and block copolymers. In 2009, he joined the LCPO in Bordeaux as associate professor and he is currently working in the group of Pr Hadziioannou on the design of advanced functional polymers for applications in energy, optoelectronics, photovoltaic, (flexible) displays, etc.

Awards and Responsibilities

Cyril Brochon is the coordinator of several research programs. He is coordinator of the "Chemistry cluster" of the "ElorPrintTec" EquipEx and he is a member of the National University Council (CNU, section 33).
He obtained the "Prix La Recherche" (field : Chemistry) in October 2013.

Scientific Production

Cyril Brochon is author of 92 publications and 19 patents (H index = 28).

DR. ERIC CLOUTET

Status: Senior Researcher
Employer: CNRS
Topics: Design of π-conjugated (co)polymers; Dispersion polymerizations; Conductive inks, Functional Polymers for photovoltaics, optoelectronics, batteries, energy, displays, etc.

Education and Experience

After receiving a Ph.D. in Polymer chemistry (under the guidance of Dr Yves GNANOU and Pr Didier ASTRUC) at the University of Bordeaux 1 (in 1996), and completing a one-year post-doctoral fellowship at University of Akron (OHIO, USA) with Professor R. P. QUIRK, Eric CLOUTET became a CNRS (the french national center for scientific research) researcher in 1997. He was recruited at the University of Paris 13 in the laboratory of research on macromolecules to work with Dr A. SIOVE on the design and synthesis of new carbazole-based electro-luminescent polymer materials (1997-2000). He was transferred in 2001 in the laboratory of organic polymer chemistry at the University of Bordeaux 1 in the group of Professor H. CRAMAIL. He became a CNRS Senior Researcher in 2012. He is currently working in the group of Professor Georges HADZIIOANNOU on the design and formulation of advanced functional polymers for applications in energy, optoelectronics, batteries, photovoltaics, (flexible) displays, etc.

Awards and Responsibilities

Dr Eric CLOUTET is the coordinator of several research programs. He was awarded Samsung-IUPAC Young Polymer Scientist in 2008 and "Prix La Recherche" (field: Chemistry) in 2013.

Scientific production

Dr Eric CLOUTET authored about 100 publications, 17 patents and more than 80 oral communications

DR. GUILLAUME FLEURY

Status: Assistant Professor
Employer: University of Bordeaux
Topics: Block copolymer; Polymer Physical Chemistry; Directed Self-assembly; Organic Materials for Energy Harvesting; Structural Characterization of polymer materials

Education and Experience

Dr Guillaume Fleury graduated from Strasbourg engineering school (EPCM) in 2002. He received a PhD in Materials Science at the University Louis Pasteur of Strasbourg in 2005 working on a new topological polymeric material. Following his PhD he completed a postdoctoral fellowship at the University of Minnesota in the Chemical Engineering and Materials Science department under the supervision of Pr Bates working on multiblock copolymers and their self-assembly. He was recruited in 2009 as an Assistant Professor in the group of Pr Hadziioannou for his expertise in the characterization of complex polymer systems.

Awards and Responsibilities

Dr Guillaume Fleury is in charge of several research programs linked to the self-assembly of block copolymer materials. He received the 2018 Common Prize of the French Polymer Group (GFP) and the French Physics Society (SFP).

DR. NATALIE STINGELIN

Status: Chaire Internationale Associée by the Excellence Initiative of the University of Bordeaux
Employer: University of Bordeaux / Georgia Institute of Technology
Topics: Organic-based functional materials; Organic electronics & photonics; Bioelectronics; Multifunctional inorganic/organic hybrids; Smart, advanced optical systems based

Education and Experience:

Natalie Stingelin(-Stutzmann) holds a Chaire Internationale Associée by the Excellence Initiative of the Université de Bordeaux since 2017. She is a Full Professor at the Georgia Institute of Technology with a joint appointment at the School of Materials Science & Engineering and the School of Chemical & Biomolecular Engineering, and with a part-time positions at Imperial College London, UK. She had prior positions at Queen Mary University of London, UK; the Swiss Federal Institute of Technology (ETH) Zürich, Switzerland; the Philips Research Laboratories in Eindhoven, The Netherlands; and the Cavendish Laboratories, University of Cambridge, UK. She studied Materials Science and Engineering in the Department of Materials at ETH Zürich, and obtained the degree of Engineer in Materials Science in 1997. In 2001, she completed her doctoral studies in the Polymer Technology Group, for which she was awarded the ETH Medal.

Awards and Responsibilities:

Natalie Stingelin was elected a 2019 Fellow of the Materials Research Society. She also was awarded the Institute of Materials, Minerals & Mining's Rosenhain Medal and Prize (2014) and the Chinese Academy of Sciences (CAS) President's International Fellowship Initiative (PIFI) Award for Visiting Scientists (2015). She moreover was an External Senior Fellow at the Freiburg Institute for Advanced Studies and was the Chair of the 2016 Gordon Conference on 'Electronic Processes in Organic Materials' as well as the Zing conference on 'Organic Semiconductors' and more recently of ICOE 2018, to name a few examples. She is Editor-in-Chief of the Journal of Materials Chemistry C and the new RSC journal, Materials Advances. She was an Associate Editor of npj Flexible Electronics from the Nature Publishing Group; she is also on the Advisory Boards of Chemistry of Materials, ACS Macro Letters, ACS Materials Letters and Macromolecules (all ACS), Advanced Functional Materials, Polymer Crystallization and Polymer Physics B (all Wiley), as well as the Journal of Materials Chemistry A,B,C (Royal Society of Chemistry). She received the prestigious ERC Starting Independent Researcher Award in 2011 (value: €1.2; http://erc.europa.eu/) as well as an ERC Proof of Concept grant.

Scientific Production:

Natalie Stingelin has published >180 papers and 6 issued patents. H-index = 53, citations: >11'000)


Skills:
Polymer characterization

Mélanie
BOUSQUET

Project:
ELORPrintTec Platform

Skills:
Optoelectronics and photovoltaics

Sokha
KHIEV

Project:
ELORPrintTec Platform

Skills:
Formulation, Conductive inks, OLEDs, Flexible Solar Cells

Wiljan
SMAAL

Project:
ELORPrintTec Platform

Skills:
Applied Physics, Nanotechnology, Nanoscience

Dr Roland
LEFèVRE

Skills:
Chemistry of polymers

Benjamin
CABANNES-BOUé

Project:
ELORPrintTec Platform

Skills:
Electronics, maintenance of equipment

Guillaume
PAYROT

Project:
Smart polymer ferrotronic materials for environmental monitoring and energy conversion

Skills:
Polymer chemistry and physics, synthesis of nanostructured inorganic materials, device fabrication

Florian
LE GOUPIL

Project:
SMILE - Smart Polymer Ferrotronic Materials for Environmental Monitoring and  Energy Conversion

Skills:
Physical Chemistry of polymers and dielectric materials
Dielectric and ferroelectric measurements

Pedro Miguel
DE CAMPOS RESENDE

Project:
Electrophoretic inks

Skills:
Polymer chemistry, synthesis of polymers, ink formulation

Emile
DECOMPTE

Project:
SMILE - Smart Polymer Ferrotronic Materials for Environmental Monitoring and  Energy Conversion

Skills:
Physical Chemistry of polymers and soft matter
Dielectric and pyroelectric measurements
Rheology

Sara
ZANCHI

Status:
PhD Student

Project:
Formulation, characterization and printing processes of Ferroelectric Polymers

Joulia
HOUSSEINI

Status:
PhD Student

Project:
Fluorinated electroactive polymers for environmental monitoring and energy conversion

Jean-David
ISASA

Status:
PhD Student

Project:
Macromolecular engineering of fluorinated electroactive polymers

Raymond
KHAYAT

Status: PhD Student


Project: Towards a material design platform aimed at bioelectronics applications: structure-properties relationship

Yasmina
AL YAMAN

Main Tasks:
Executive assistant: ELORPrintTec project management, Human Resources management of the non-permanent staff, communication

Aude
MANSON